SLOVENKE IN SLOVENCI V NCAA: Kavaš ime tekme, Lumpretova igralka kroga, Kramplju slovenski derbi
Za nami je pester teden, ki so v ameriški študentski ligi zaznamovali tudi slovenske košarkarice in košarkarji. Petra Lumpret, ki je bila še drugič imenovana za igralko tedna v Ligi NAIA. Po poškodbi se je uspešno na parket vrnil Matej Kavaš, ki je bil minulo noč junak zmage Seattla proti Chicagu, Kavaš pa je bil imenovan tudi za igralca tekme.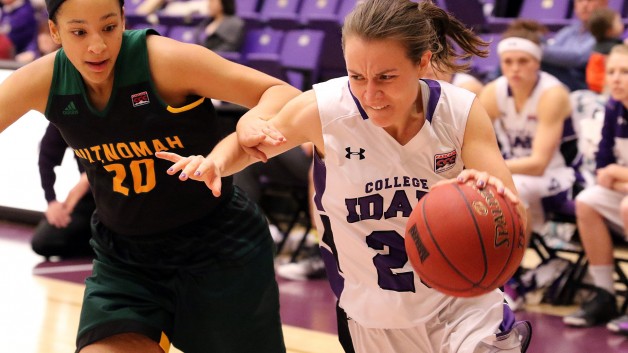 Slovenski derbi med Amarjem Alibegovićem in Martinom Krampljem pa je pripadel slednjemu,
Petra Lumpert (College of Idaho Athletics):
– 27 minut, 23 točk, 7 podaj, 7 skokov (College of Idaho Athletics – Multnomah University 84:60)
– 30 minut, 24 točk (College of Idaho Athletics – Warner Pacific 68:60)
Petra Krupenko (Hofstra University):
– 2 minute (Hofstra University – Northwestren University 51:53)
– 6 minut (Hofstra University – Townson University 70:61)
Bi tudi sami radi združili igranje košarke in študij v ZDA? Potem je najboljše, da vam pri tem pomaga podjetje LV Prospects.
Filip Leskovar (Lenoir-Rhyne University):
– 5 minut, 4 točke (Lenoir-Rhyne University – Newberry University 75:80)
– 22 minut, 4 točke (Lenoir-Rhyne University – Anderson University 94:85)
– 19 minut, 6 točk (Lenoir-Rhyne University – Queens University 56:78)
Jure Špan (University of South Carolina Upstate):
– 27 minut, 4 točke (University of South Carolina Upstate – University of Missouri 84:75)
– 34 minut, 8 to(University of South Carolina Upstate – New Jearsy institute of technology 75:65)
– 32 minut, 3 točke (University of South Carolina Upstate – North Florida University 65:73)
Matej Kavaš (Seattle University):
– 28 minut, 13 točk (Seattle University – CSU Bakersfield 71:78)
– 26 minut, 16 točk (Seattle University – University of Missouri 68:84)
– 34 minut, 24 točk, 8 skokov ( Seattle University – Chicago State University 65:50)
Amar Alibegović (St John'sRed Storm):
– 9 minut (Georgetown Hoyas – St John'sRed Storm 83:55)
– 2 minuti, 1 podaja ( St John'sRed Storm – Villanova 57:70)
– 9 minut, 2 točki, 3 skoki, 1 blokada (Creighton University – St John'sRed Storm 85:72)
– 10 minut, 2 točki, 6 skokov (Xavier – St John'sRed Storm 97:82)
David Gabrovšek (Missouri Baptist University):
– 19 minut, 9 točk (Missouri Baptist University – Hannibal-LaGrange 75:59)
– 25 minut, 17 točk (Missouri Baptist University – Harris-Stowe State 82:61)
– 24 minut, 5 točk (Missouri Baptist University – Williams Baptist 83:76)
Matevž Rojc (Spring Hill College):
– 3 minute (Spring Hill College – Fort Valley State University 63:67)
– 1 minuta, 2 točki (Spring Hill College – Tuskegee University 67:85)
Martin Krampelj (Creighton University):
– 3 minute (Creighton University – St. John's 85:72)
– 2 minuti(Creighton University – Providence College 78:64)
Jure Prus (Northwood university):
– 9 minut, 2 točki (Northwood university – Hillsdale 75:85*)
– 9 minut (Northwood university – Ohio Dominican 67:101)
– 8 minut (Northwood university – Grand Valley St. 78:93)
* – po podaljšku